Bespoke Lifestyle Hotel in Washington, DC
Nestled among 19th-century row houses, just steps from iconic landmarks like the U.S. Capitol Building, the National Mall and the Library of Congress, our Washington, DC hotel invites you stay in comfort and explore with ease.
With 153 well-appointed rooms and more than 2,000 square feet of meeting and event spaces, Capitol Hill Hotel in Washington, DC offers everything you need for a quick weekend getaway or an extended stay in the capital, including Wi-Fi Internet access and daily breakfast. From our unparalleled location, wander in any direction to explore both historic brilliance and booming neighborhood innovations.
See More
Surround Yourself with Comfort and Ease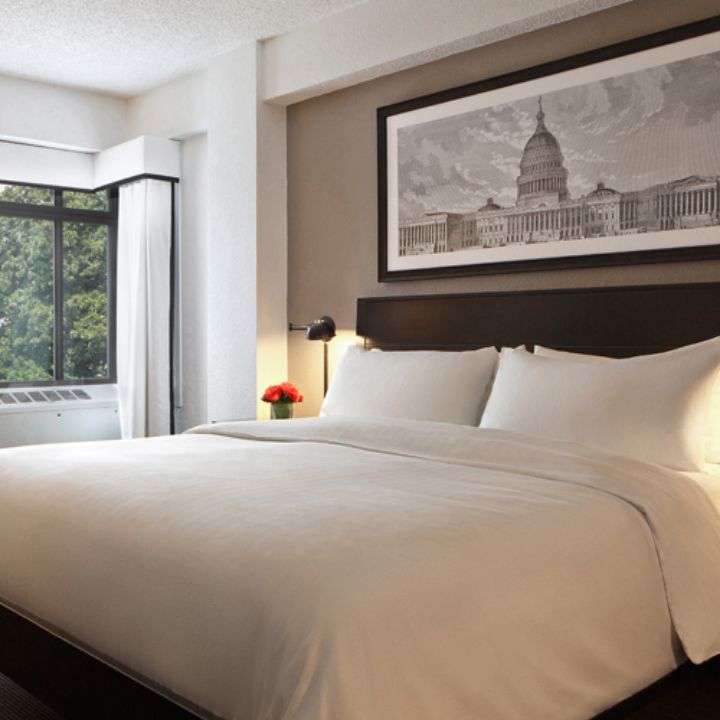 Designed with style and relaxation in mind, Capitol Hill Hotel features some of the largest hotel rooms and suites in the capital. Rest in spacious guestrooms with plush bedding, televisions that stream your favorite content, the convenience of kitchens and kitchenettes, and thoughtful amenities for your comfort.
Choose Your Room
Book Now
Explore the Best Deals in DC
Whether you're here for work or play, Capitol Hill Hotel's deals and packages help you take advantage of what our unique neighborhood has to offer. Book directly on our website and take advantage of great rates and inclusions.
Explore Offers
Host Your Event With Us - We offer 2,000 square feet of flexible meeting space and spacious accommodations. Room blocks for groups also available. Request for Proposal
Wondering where to explore during your stay in DC? Easily navigate to iconic landmarks on the National Mall, pop into a shop or restaurant in the Navy Yard, or enjoy a quick walk to work on The Hill. Our Washington, DC hotel's location allows you to meander through charming residential neighborhoods and enjoy the capital's best attractions.
Explore The Area
All
Shop
Eat
Culture
Landmarks
Capitol Hill Hotel in the News
Capitol Hill Hotel welcomes guests of all abilities. Our facilities are compliant with the ADA (Department of Justice ADA Title III Regulation 28 CFR Part 36, 1991). For more information on accessibility, please see our Accessibility Statement.
"This hotel is in a perfect location as you can walk to so many things. The Capitol, Library of Congress, Supreme Court, Botanical Garden too many to list! The rooms are comfortable with kitchenettes that I really find to be so nice to have... Staff was very nice and accommodating."
Book Now
Family Travel